Good Morning Everyone! It's Wednesday ... and that means it is all downhill to the weekend! There are a lot of fun things going on this week - want to make sure you guys check it out. On the New Handmade Collective, there is a wonderful sweepstakes going on - lots of goodies to be had!!
So make sure you
CLICK HERE
and enter to win. Also, over on the Merry Whatever blog, tons of talented artists are offering up wonderful pieces of art ... with Mother's Day approaching, you'd be giving a very unique and beautiful gift!
And last but not least, a new group I came across-
Etsy Artists of Color
who also offer a fabulous selection of goodies on ETSY.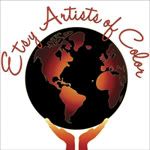 So ... wake up!!...get a cup of coffee...and search for something beautiful...and along the way meet a wonderful bunch of artists. Have a Good Day.